Why do so many buyers prefer a new home versus a used one? New homes today offer more reasons to buy them than ever before. Here is a list of reasons why home buyers prefer new.
Design Control
People prefer new homes because they don't have to settle. They can get the colors and choices that reflect their sense of style, such as paint, carpet, tile, hardwood, cabinets, countertops, brick, windows and more.
Smells Fresh
People prefer new homes for the same reasons they prefer a new car. New homes smell fresh. The air quality is very high.
Never-owned
Sometimes when you buy a used home it can feel like you are moving in to someone else's home. A new home is completely new with no history. It's entirely yours.
Completely New Kitchen and Bathrooms
Think of a used kitchen versus a new one. New cabinets, shelves, drawers, countertops, sinks and faucets all in a modern design.
Up-to-code
The government is constantly updating the building code. A new home must meet all new applicable standards, whereas a used home might not.
Appliances
Some builders offer appliances with the purchase of a new home or condo. Sometimes when you buy a used home you also work the appliances into the deal. Which one is better? New energy-efficient appliances are obviously a much better purchase.
Basement & Garage
Some older homes can have less than appealing basements. A new home has new concrete that meets modern building standards. Often a 3-piece bathroom is roughed-in to your basement floor. Further, the grading around the exterior of a new home and throughout a new home community is usually much better than older developments, lowering the chances of your basement flooding.
New Roof
A new roof is piece of mind in any storm. New homes have roofs that drain well, are less likely to leak and are insulated for Canadian winters. Plus with new shingles, gutters and soffits, you will save the money and stress of having to replace an expensive roof shortly after you move-in, which is often the case in a used home.
Lower Condo Fees
When buildings are new, they cost less to maintain. Often new condos have lower fees which grow as the building ages.
New Windows
This might as well be #1 on this list. Windows are expensive and they don't last forever. A new home or condo has new insulated windows that work better than old ones. It's piece of mind at night to know that you won't need to spend on new windows any time soon.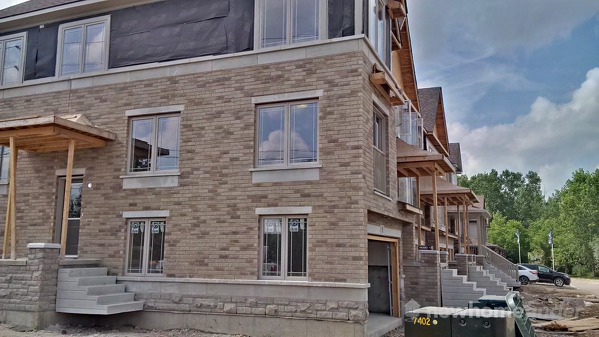 New HVAC
New homes have new furnaces and air conditioners under warranty. The A/C is full of coolant. They meet modern code and are energy-efficient.
New Flooring
Used homes often have carpet that is dirty and used, especially under the surface. New carpet means fresh underpad and pile. New hardwood, engineer and laminate flooring products offer you more options than every before.
Fresh Paint and Walls
The walls in a new home are pretty much perfect. Made of modern drywall and paints, you can be assured that they are healthier, safer, and of course look and smell great!
Modern Floor Plan
A new home or condo has a new floor plan design. Most older homes reflect floor plans that were popular decades ago, but are no longer prefered by home buyers. A new floor plan reflects modern living, such as convenient laundry rooms and open concept layouts.
Modern Facade
If you drive through any community you can tell its age. New homes have exteriors that reflect today's preference. Owning a new home means you get something new, rather than settling for tacky features of yesterday's homes.
Warranty
In many provinces like Ontario you might have a warranty from your builder. Check if your builder is registered with Tarion in Ontario. If so, you can report defects when you move into your new home. If the item is covered by the warranty, the builder will fix. You are unlikely to have any warranty on a used home.
Energy savings
A new home is often better insulated and more air tight than a used home. The appliances, plumbing and more is likely to demand less hydro resources. This means real monthly savings for new home buyers.
Low maintenance
A new home is new. So most of the house won't need much maintenance until it ages. This means lower maintenance costs and less work around the home.
Air Quality
A new home is fresh and clean. It is less likely to have mold, dust and other contaminants polluting the air. It has no previous owner who smoked.
Smart Technology
New homes and especially new condos have technology that hasn't been available until now. Things like fibre optic wires and intelligent appliances are making new a better choice than ever.
Safety
A new home has all the safety features required by today's standards. A used home might have a dangers due to age or previous home-owner repairs that did not meet code. Further a used home might have toxins that you are not aware of. Old breakers might fail increasing risk of fires.
Electrical & Plumbing
How do the pipes in a used home look? You don't know. But a new home has clean pipes. The electrical panel and wires are tidy and meet the latest safety standards. The breakers work well.
Insulation
New homes and condos have new walls that are insulated according to modern code. The windows are new. This means they are less drafty and use less energy to heat and cool.