The concept behind Yitan Sun and Jianshi Wu's New York Horizon is to excavate Central Park down through the bedrock and shape it into mountains and valleys. Surrounding the park is a continuous skyscraper, which appears as a sky when viewed from inside the new central park.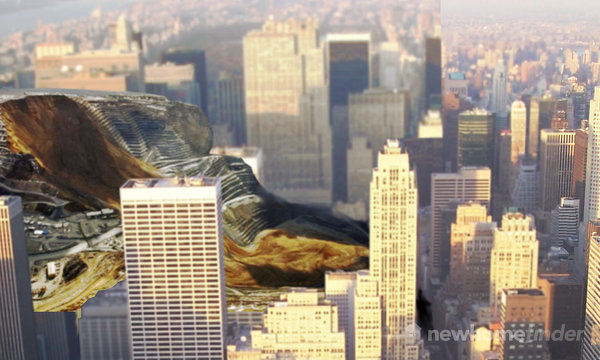 Landslide in New York City
The huge piles of excavated material from Central Park would form mountains, shown towering as tall as skyscrapers. They would somehow need to prevent erosion, landslides and human risks. Much of the fill removed might have to be dumped in the ocean, which may concern environmentalists and people living on the coast. It doesn't sound like, in the USA, this would pass with voters or be approved by government. Regulations would be a nightmare. Central Park is deep with human history. The park's establishment and the history in the trees and paths is unsurpassed by any other park in the world. The bedrock below, has none of this history.
Sunken Central Park Skyscraper
Perhaps why this buried skyscraper looks so beautiful to some is that they see it as futuristic. It might make sense on the Moon or Mars to bury a skyscraper to protect it from asteroids. But on Earth we have an atmosphere and water, which causes engineering and maintenance issues. Global warming and the new reality of hurricanes in NYC, make this valley shown deep below the Hudson River and Atlantic Ocean, look like a really bad idea.

We are reminded of this scene from the movie "Day After Tomorrow"

It's questionable whether this structure would qualify as a skyscraper, as each level is touching ground. We admit New York Horizon is creative. It has the genius to be a great apocalyptic film, from how government forces its creation to the eventual catastrophic landslides and flood. I'd watch that for sure. And maybe that is why this won? Because like a good movie, it's interesting.

The excavated material would be used to create mountains on top of other areas of New York City, that would be demolished once New York Horizon is complete. The idea sounds like something from a fairy tale. It's a crazy idea that invokes your imagination and has the potential to go viral. But it would be difficult to imagine this getting built.